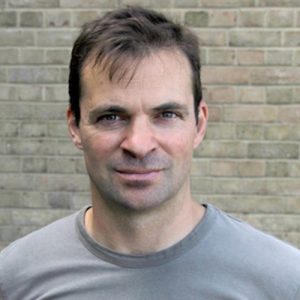 Ed has 25 years of experience in Strength and Conditioning and the fitness industry. He has worked extensively in Elite Sport including Gloucester Rugby and Formula 1 and in a range of other performance environments such as ballet and international polo.
Ed is passionate about having variety in his coaching: for the past 12 years he has innovated the delivery of youth strength and conditioning in Gloucestershire and beyond, and is well known for developing successful coaches as well as athletes.
Ed is a former director of the UK Strength and Conditioning Association, and is a lead assessor and tutor for the organisation. See Ed's Q & A session below…
– Ed Archer Director
The Story Behind The Strength
A question and answer session with Ed explaining his passion for strength and conditioning and his vision for helping others achieve their best in this field.
So where did your love of sport and performance begin?

I can't put an exact date on when I first became interested in strength and conditioning but I do recall taking out a library book on athletics training when I was still at primary school! Perhaps being of smaller build, even back then I knew that I had to work harder to compete with the other kids my age. As a gymnast, going on to discover weight lifting, as a kid into sports in South Africa I felt like I was immediately on the back foot. So, it seems natural to me now that I looked towards strength, nutrition and balance as my way of keeping up with, and ultimately overtaking, the pack.

Starting to see the investment pay off, I could see that my own skills and performance levels were starting to increase and this balance between movement and technique started to fall into place. It also became clearer to me, almost simplistic, that movement by itself isn't enough. Yes, your car might drive OK but if your wheels aren't aligned or your tyre pressures are off, it's not working as efficiently as it should. Similarly, you might be able to run a 10k, but what if simply learning a new technique to make your body move more efficiently meant that 10k was a lot less challenging or in fact you had another 10k still left in the tank!

I then went on to study my Degree in Human Movement Studies in South Africa and was well into my journey as a strength and conditioning advocate by this point. Graduating, I then took a different path and spent time digging ditches in the Middle East which, along with obvious benefits for my strength, gave me a very strong work ethic which I carry through to this day.
What brought you to the UK?

From Israel I then had the opportunity to move to the UK where I continued to study in Wiltshire. This was around the time when rugby had just turned professional here. Gloucester had just recruited a permanent Coach and an opportunity became available for an assistant with my skill set. My college in Wiltshire put me forward and in 1997 I signed on the dotted line and took up my position with the Gloucester team alongside Coach Paul Balsam, who I still work with today. After 7 years Paul left and I took up the role as the youngest lead Strength and Conditioning Coach.

The time then came for me to take a break from the game and I spent a year or so up and down mountains loving life as a ski-er and snowboarded. But all the time I wanted to find a way to keep developing my strength and conditioning focus and turn it into a living.
Where did the idea for Athlete Academy come from?

Without too much digging around, I could see that there was a massive gap in the market for strength and conditioning offer. Whether for an end user, or as part of CPD for a professional trainer, there seemed to be nothing available to really drill down into some of the essential but basic S&C skills and techniques.

As an example, with many of today's gyms, you can go along and meet a trainer who can introduce you to the environment and show you how to use the equipment but who may not know what to do with you, on a human physiology level, to get you moving right. They just don't come through they system with the strength and conditioning skills in their toolkit. And they should.

And that's where we end up today. Athlete Academy is the dream. Running a business where I, along with colleagues and industry experts, get to go out to schools, professionals and individuals of all ages and teach them how to be efficient in their movements to get the very best results. It is so rewarding to see the difference that it can make and also to know that by training our clients they can go on to train others, correctly and safely.

We're about raising standards, raising awareness, educating, encouraging and mentoring so that our clients have the skills they need for a sustainable future. It's about getting results – yes. But it's also about being the very best technically, being efficient and using your body the way it was designed to be used.
Who is strength and conditioning for?

Strength and conditioning might not be right for everybody, although I would argue that it is, but it's right for more people than you realise! Often, people assume that you have to be a top athlete or die-hard PT to get the benefit from what we can deliver and that's just not the case. The type of clients we work with, who see the best results, both physically and financially, are those who have a genuine interest in the relationship between strength and movement, have a mindset to learn and to be challenged and who want to get the very best out any exercise that they or their clients do.

From teachers to physiotherapists to personal trainers, we have worked with a real variety of clients and that's what I love. Working with like minded individuals who strive for the best and are prepared to step outside of their own comfort zone to get the balance between dynamic movement and human efficiency just right.

I am so passionate about strength and conditioning and I make no apologies for it. I cannot stress enough the importance of efficient movement. Allowing your body to do what it was designed to do, understanding the way it moves, understanding the connections. That's where the magic happens and it's a phenomenal thing to be a part of.